Customer Service Week
25 Celebration Tips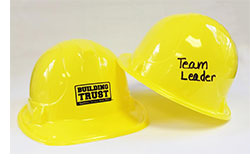 Decorate the service center with Posters, Banners, Pennants, and Balloons. Hang posters and banners in advance to generate excitement for the celebration to come.
Start the week with a kick-off breakfast.
Invite the service team to sign the Customer Service Week Pledge.
Give each person to sign the pledge a Lapel Pin as a reminder of their commitment to customer satisfaction.
Recognize the individuals and groups that support your department. Present them with Certificates of Appreciation and include them in your celebration activities.
Thank your customers and remind them of your commitment to customer service with personally signed Thank-You Cards.
Make your Thank-You Cards more meaningful by enclosing a copy of your mission statement or a photograph of your service team.
Thank frontline staff by sending personally signed Thank-You Cards to their homes.
Answer your phones, "Thank you for calling during Customer Service Week. How may I help you?" Be prepared to explain the week and how it supports your mission of service excellence.
Solve at-your-desk puzzles throughout the week. The Puzzles page includes pencil-and-paper puzzles you can print for everyone on your team.
Award prizes to everyone who tries a puzzle. At the end of the week host a grand prize drawing from among the participants.
Host ready-to-use team-building activities. The Activities page includes activities for groups of all sizes, many support this year's Customer Service Week theme.
Host theme days with coordinated activities, food, and costumes. Some of the most popular are Stress Relief Day, Company Colors Day, Pajama Day, 60s Day, and Service Champions™ Day. See the creative theme days at Estep Enterprises.
Create games based on popular TV shows such as Amazing Race, Jeopardy!, Cash Cab, and Survivor.
Recognize the service team for their hard work and dedication. Gifts with the Customer Service Week logo provide a year-round reminder of your appreciation.
Host ready-to-use recognition activities. The Activities page includes activities for groups of all sizes including an Opening Ceremony, Closing Ceremony, and Peer-to-Peer Recognition.
Enjoy a festive meal or snack breaks such as a catered lunch, ice-cream sundae break, or cupcake and coffee get-together. Use our Cupcake Toppers to make ordinary cupcakes special.
Make a special delivery. If your team can't gather for a break, have team-leaders, supervisors, and managers make special deliveries to each person with a snack, token of appreciation, and words of thanks.
Include remote staff by sending celebration boxes with balloons, small gifts, and a photograph of your in-house team.
Host ready-to-use activities based on the Building Trust™ theme. The Activities page includes activities for groups of all sizes including Build a Web, CanStruction, and Build a Box.
Incorporate a charitable element into your celebration. From fundraising to clothing and canned food drives a give-back activity is great for building team cohesion.
Motivate with a personal address from your CEO, president, or division head, on the importance of service to your organization. Share the speech with in-house and remote staff via online video conferencing. Here's a wonderful motivational video from University of Toledo Medical Center.
Finish the week with a Closing Ceremony. Thank all of the people who gave their time and energy to make the week a success. Make your final prize awards. And then hang your Certificate of Participation.
Have fun. This is the one week out of 52 to reflect on successes, celebrate accomplishments, and re-energize so that that your team can deliver the best possible service for the next 51 weeks.
Learn more: