Customer Service Week Puzzles
Planning a week-long event is difficult. But with our sample agendas, celebration materials, activities, and the puzzles below, you're well on your way to a successful event.
New puzzles will be added in the months leading up to Customer Service Week. To receive announcements, sign up for free email bulletins.
Free to all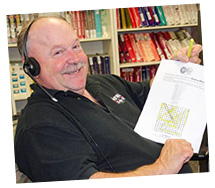 Premium puzzles: Free to buyers of CSWeek.com celebration materials
(If the links aren't active, please click here.)
Beginning and End NEW
City Scramble NEW
Creative Connections (3 puzzles)
Hidden Number (2 puzzles)
Hink Pinks (2 puzzles)
Juggling Challenge
Lost Package
Lost Patient
Magic Squares (4 puzzles)
Mixed-Up Meaning NEW
Name Game
Puzzling Pairs (2 puzzles)
Quarrelsome Coworkers
What Did You Say? NEW
Word Ladders (5 puzzles)
Solutions
These documents may be viewed and printed with the Adobe Acrobat Reader. You may download a free copy by clicking on the yellow Acrobat icon below.

Note: The Customer Service Week logo, the contents of this website, and the contents of the Customer Service Week Email Bulletins are protected by international copyright laws and may not be reproduced. However, all of the puzzles on these pages may be printed and used as part of your celebration.