Customer Service Week Puzzles
Thank you for celebrating Customer Service Week with puzzles from CSWeek.com.
Planning a week-long event is difficult. But with our sample agendas, celebration materials, activities, and the puzzles below, you're well on your way to a successful event.
New puzzles will be added in the months leading up to Customer Service Week. To receive announcements, sign up for free email bulletins. During Customer Service Week, games, puzzles and contests are a great way to start a meeting, get to know team members, make important points in a lighthearted way, and just have fun.
Whether you develop your own puzzles or use our print-ready puzzles and activities, be sure to order Customer Service Week prizes and gifts for everyone!
Free to all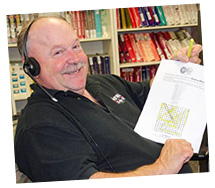 Premium puzzles: Free to buyers of CSWeek.com celebration materials
(If the links aren't active, please click here.)
Creative Connections (3 puzzles) NEW
Flexible Thinking (2 puzzles)
Hidden Number (2 puzzles) NEW
Hink Pinks (2 puzzles)
Juggling Challenge
Lost Package
Lost Patient
Magic Squares (4 puzzles)
Puzzling Pairs (2 puzzles) NEW
Quarrelsome Coworkers
Spell It Out
Take Your Pick (6 puzzles)
Teammates Logic
Word Ladders (5 puzzles) NEW
Solutions
These documents may be viewed and printed with the Adobe Acrobat Reader. You may download a free copy by clicking on the yellow Acrobat icon below.

Note: The Customer Service Week logo, the contents of this website, and the contents of the Customer Service Week Email Bulletins are protected by international copyright laws and may not be reproduced. However, all of the puzzles on these pages may be printed and used as part of your celebration.
---