Customer Service Week Puzzles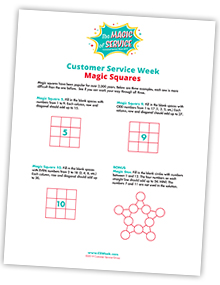 Name:

Magic Squares

Materials:

Magic Squares sheets for each team member.

A Customer Service Week Two-in-One Pen to use.

Notes:

Magic squares have been popular for over 3,000 years. Like crosswords, suduko and other more commonly known pencil and paper puzzles, they can provide a quick break from the stress of the day.

Reward everyone who completes the puzzle with a Customer Service Week Scratch Off Card.

Puzzles/
Solutions:

Click here to print Magic Squares sheets.

Click here for the solutions.